Hello my fellow makeup enthusiast's!
This is for my fellow friends who experience a physical, mental, and/or emotional disability. Whether you were born with the disability or illness, you fell in love with improving your appearance with your love of makeup! Unfortunately, with your current disability, condition, or illness, you end up running late or not even going out to that party you've been wanting to go to for weeks because you couldn't push pass the symptoms or anxiety, and finish your makeup routine in a timely manner. Well fear no more, because ya girl has and currently goes through it with you! See, I was involved in a tragic car accident in July of 2015. I was crushed by an ambulance in stand still traffic, that did not have their sirens or lights on. I was hospital and bedrest bound for a almost a year and a half. Today, I am a severe a and permanently brain damaged patient/survivor who has been through it all, and trust me I understand how frustrating it can be! Especially when you have a party, a special occasion, or event, you have to get ready for but, with the disability being new or having debilitating symptoms, that can make it a little difficult. Thus, this article's true reasoning! I am going to outline my makeup routine in 6 simple steps.
So, for me, because of the brain damage, my basal temperature is extremely high. This can make me sweat perfumery, from just getting up to turn the light on and going back to sit down. So, I always keep my handy dandy mini fan plugged in on my vanity, along with my favorite songs on shuffle, and a desk light with LED bulbs on the left and right side for the best lighting, no matter what time of day it is!
Let's dive in:
Step 1: I always start with foundation. I don't use a while lot but just enough to make a diamond on my face. So a portion on my forehead, my right and left cheek, and my chin. Yes I blend all over, even the eyes. The goal is to look like you airbrushed the foundation on, and let me tell you, the foundation itself does the work for you!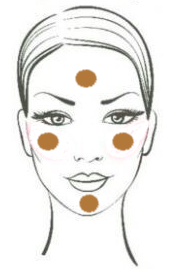 Step 2: Next, I make a line from the tip of my cheek bone to the corner of each nostril with contour. I then draw a line around the bottom of my jawline, left to the right side, and I do the same from the top part of my forehead, left to the right, right at my hairline (but not in the hairline haha). Then blend! I usually use my bamboo brushes for this!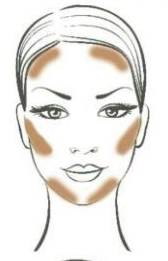 Step 3: I take my blush and I usually highlight my cheekbone and a little swoop across the tip of my nose.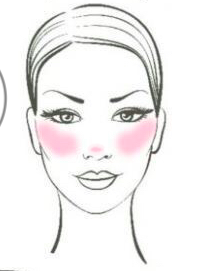 Step 4: Highlighting! I go a little extra most of the time, so I use a baby eyeshadow brush, and put a little at the crease above my top lip, and then I take an eyeshadow brush for blending and I apply the highlighter to the tip of my nose and the tip of my chin. Then, I apply the main portion of my highlighting to the top of my right and left cheekbones.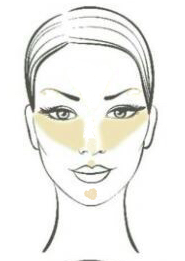 Step 5: Now it is eyebrow time. I start by outlining my shape with the eyebrow choice of color that I use which is usually a dark brown. Then I literally just fill in the lines that I have created to form my eyebrow, BUT I do not form the end, which is near the middle of your forehead. Why? You want them to look like they are natural eyebrows, so just add some light shading but don't fill them in like the rest of your eyebrow. Trust me, you'll thank me later!
Step 6: I usually go with the simple look because I work an approximate of 12 to 16 hours every day, so I take my liquid eyeliner pen and I start my line at an upwards point of the corner of my eye (so if you are looking in the mirror, it would be your left side of your eye), and then I go to the inside corner of my eye, making a wing 😍, then I take my lash sensational from Maybelline and I go extra with the mascara, because I have eyelashes that are the length of spider legs.
You can totally accomplish this simple look in about 15 to 20 minutes.
Now for the major tips that you all have been waiting for:
If you have a hard time with shaking, hold your wrist, it stabilizes your movement immediately, and you can draw a perfect wing or eyebrow shape. Need more help with steadying your hands to apply eyeliner and mascara? Does a classic wing not work for you, because you have a hooded eyelid? We got you there, too! These blogs/vlog can help!
5 Disability Friendly Tips for Keeping Your Eyeliner Straight
Batwing Eyliner For Hooded Eyes in 5 Steps
Winged Eyeliner and Mascara Simplified
Also, if you shake, or can't stand up on your own, have a seat! I do my makeup sitting down, because I get super weak after about 15 minutes of standing up straight because my brain gets tired easily.
These simple steps will help you take ¾ of what your usual makeup routine took you!
I hope this helps!
Love,
Jacque